Power Sports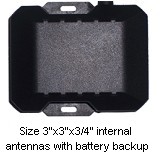 Powersports using a "Blackbox" that was designed for automobiles is doomed for failure. Offering more protection now than ever before with increasing thefts!
Features:

5 min. Reporting

On Demand Tracking

Small,easily hidden

Internal Antennas

Back Up Battery Protection

Simple 2 wire,No cut Installation

SOS Main Power Cut off Alert With 6 hour,60 second SOS Tracking
More Features:

Theft Alerts

Speeding Alerts

Low Battery Draw

Motion Alerts & Messages

Water & Wheather Resistant

Location Real Time Tracking

Historical Reporting & Locations

Geographic Boundary Violations

One Year Free Airtime;Low Cost Renewals

Optional Low Cost Roadside Assistance Plans
FTLocate-OK232
FT Locate - 6 Ways GPS Vehicle Tracking Will Keep Your Drivers Safe, you'll receive an speed alert via text message and/or e-mail. Set up to six "geographic boundaries" around addresses,and be alerted via text and/or e-mail when the drives inside or outside of those boundaries. You have servie plan options to choice.
Benefits:

Know where your driver is at all times with unlimited continuous tracking

One of the lowest cost GPS tracking systems

Instantly locate your vehicle in between regular locates

Disable your starter to prevent vehicle theft

Unlock your doors via telephone or the Web
Service plan Options

FleetTrack - Every 10 Minute Plan

ConsumerTrack - Every 20 Minute Plan

LightTrack - Every 30 Minute Plan
iMetrik

Used as an added value to increase revenue and sales by extending credit
to a broader customer base. our system will reduce payment delinquency by
as much as 80% and will improve overall dealership efficiency. With absolutely
NO hidden sign up or activation fees, our devices will remain activated
forever at no extra costs.
Benefits:

True "Automotive Grade" Device

Payment Notification and Reminder

Embedded Starter Disable

Ultra Low Power Consumption,Power Loss Alert,Battery low voltage Alert

SMS & Email Alerting,Starter Disable Tamper Alert,Speed Alert

Mileage Threshold Alert,Network Presence Indicator

Easy Installation,Intuitive and Comprehensive Web Application
Additional Airtime Credits are available :
2 Airtime credits are used to send out a locate and reply. Additional Credits can be purchased through your account online in the following quantities.

15 Airtime Credits @ .95 cents---->$13.50 US

25 Airtime Credits @ .90 cents---->$22.50 US

50 Airtime Credits @ .90 cents---->$45.00 US

100 Airtime Credits @ .85 cents---->$85.00 US

500 Airtime Credits @ .80 cents---->$400.00 US
SysLocate-S3000i

Installation has been a huge challenge for many of our customers. Adding the internal antenna can bring installation time down to 5-10 minutes and with some fleets having several hundred cars this is a significant cost and time savings, Dealers that have been using our all-internal antenna units in our trial market are overwhelmingly convinced that they will never need to install an antenna again."
Benefits:

No external antennas
Installs in 5-10 minutes,Eliminates pinched cables.

Free Stop Track
Track where a vehicle stops for 7-days,Makes vehicle reposession easier.

Interactive Voice Recognition(IVR)
Test installation from your cell phone,Locate a vehicle quickly via telephone,Prevent theft with InstaFence alerts.

Lowest Cost Service Plan

Low Battery Alert
Alerted if battery voltage drops,Unit will not drain vehicles' battery.

Multi Geofence Alerts
Now supports 3 geofences,Be alerted when a vehicle enters or exit a geofence,Can alert up to 6 users by SMS or email.